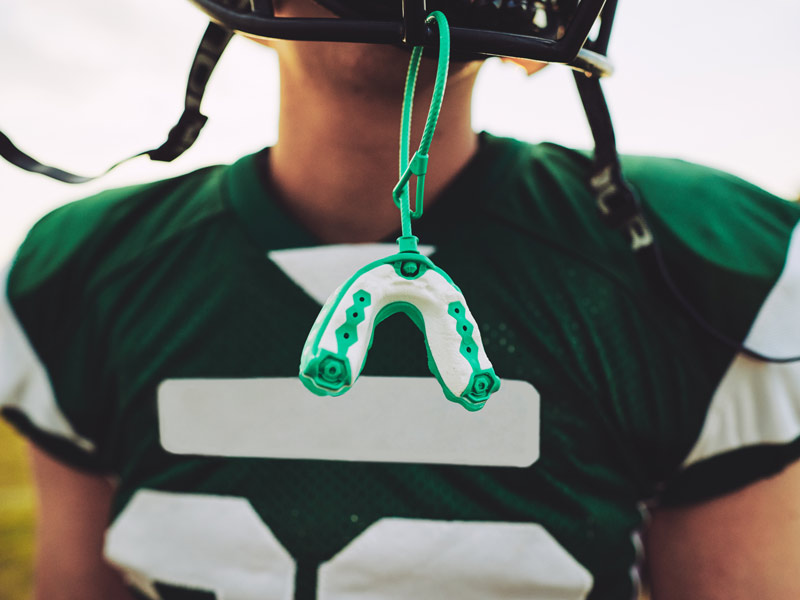 Do you play a contact sport, such as football or hockey? If so, we recommend that you ask our dentists in Ann Arbor, MI, about getting a sports mouth guard. A mouth guard is an oral appliance that fits over your upper teeth and protects them in the event you get hit in the mouth. That way, you can avoid a potential dental emergency during your next practice or game.
In the meantime, here's what you need to know about getting a sports mouth guard at Liberty Dental.
What Can I Expect During My Appointment?
In general, it takes two trips to our office to get your custom sports mouth guard. During your first appointment, we'll take impressions of your teeth and send them to the lab that will be making your mouth guard.
When you return for your second appointment, your sports mouth guard will be ready. Our Ann Arbor dentists will check the fit of your mouth guard to ensure it's comfortable and provides the ultimate protection for your smile. This may involve making minor adjustments to the fit of your mouth guard before you'll be able to take your new appliance home.
Why Should I Wear a Custom Sports Mouth Guard?
The main benefit of a sports mouth guard is that it protects your smile so you can avoid dental injury. For example, it's not uncommon to crack or lose a tooth on the football field after getting tackled. For this reason, we always recommend that patients who play contact sports get a custom mouth guard from our office.
Request an Appointment with Us
Our dentists in Ann Arbor, MI, are accepting new patients and would be more than happy to welcome you to our practice. To schedule an appointment and learn if you could benefit from a sports mouth guard, please call Liberty Dental at (734) 994-0909. You may also fill out our online contact form and someone from our team will reach out to you soon.