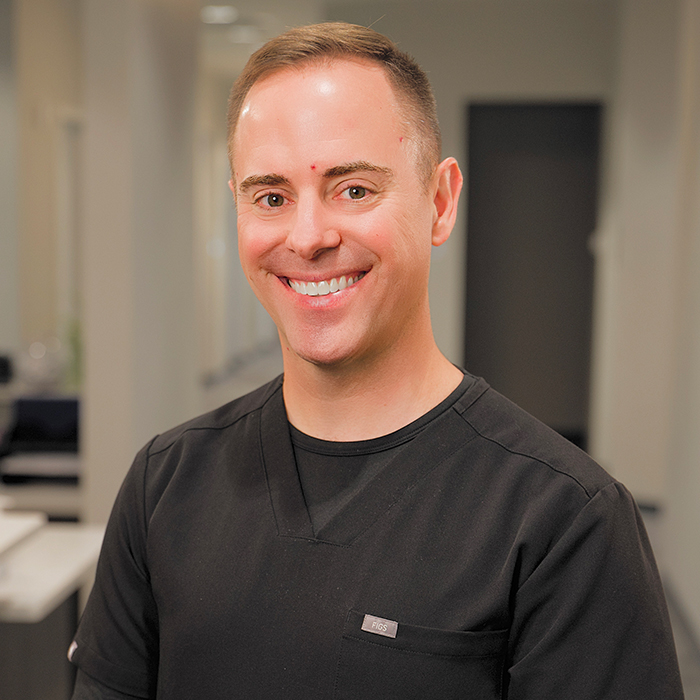 Robert J. Stevenson, DDS
Dr. Stevenson loves what he does as a dentist, from being able to help his patients stay healthy to feeling more confident in their smile. Research shows that after one's eyes, a smile is the first thing people notice in individuals. Dr. Stevenson's goal is to give people true 'eureka moments' when they realize how easy it can be to have a brilliant, stunning smile.
At his Ann Arbor, MI, dental office, Dr. Stevenson seeks to create a positive and welcoming environment where people can feel comfortable and know that they are valued. Working with all the different people in the Ann Arbor community is one of his favorite parts of being a dentist. People are always at the core of everything Dr. Stevenson does.
Educating people so they can make informed options about their dental conditions is another important aspect of Dr. Stevenson's philosophy. The education he provides includes options of what he can do and what his patients can do to maintain long-term dental success and happiness with their teeth and smile.
While dentistry is a serious business, Dr. Stevenson truly loves bringing some lightheartedness to the important aspects of what he does in dentistry. He wants to have fun at the office while trying to keep people at ease and in doing so, Dr. Stevenson realizes that being authentic to himself helps bring out the best he has to offer.
Education and Experience
University of Michigan, Bachelor of Arts Degree in Music, 1999
University of Michigan School of Dentistry, Doctorate of Dental Surgery, 2003
University of Florida, Advanced Education in General Dentistry, 2004
Dr. Stevenson stays current on the newest and most effective dental treatments through numerous forms of continuing education. He has completed the Louisiana Cosmetic Dentistry Continuum — which focused on advanced diagnosis and treatment planning and provided skills to assess and treat patients' complicated cosmetic needs.
From 2005 to 2012, Dr. Stevenson was an adjunct clinical faculty member at the University of Michigan School of Dentistry. During that time he was fortunate to work with many wonderful faculty and students and gain a true appreciation for the value of lifelong learning. Dentistry is a constantly changing profession; if one does not embrace progress, one will be left behind.
Dr. Stevenson believes that constant improvement is essential to reaching his greatest potential and allows him to confidently and successfully offer a diverse variety of treatment options to patients. He is a member of a local Spear Education Study Club with other dentists. Independently, he furthers his education at Spear Education and CEREC doctors in Scottsdale, AZ, The Kois Center in Seattle, WA, and nationally at various meetings.
Additionally, Dr. Stevenson is an assistant editor for the Dental Advisor, a monthly publication that focuses on product evaluation and reviews for the dental professional. This allows him to be well-versed in the pros and cons of new products and the manufacturers' reasons for adding new products to the fields.
It also offers him the balance of staying on the cutting-edge of materials and procedures, while at the same time being selective and objective about what choices he wants to introduce at Liberty Dental.
Professional Affiliations
Outside the Office
Dr. Stevenson has been happily married since 2003 to his beautiful wife, Anne. She is a physical therapist and works in Ann Arbor for St. Joseph Mercy Health System. His son, Joey, was born in 2006 and his daughter, Claire, was born in 2010. Dr. Stevenson enjoys spending time with his wife and children at the seemingly never-ending events of children these days. He also likes going for early morning runs with friends and spending time with his extended family in Michigan.
In addition to loving the work he does, Dr. Stevenson also remains very passionate about music performance. He particularly enjoys working with choral ensemble groups to create a cohesive sound. Music is both cerebral and emotional — and Dr. Stevenson finds many parallels between what he does professionally and what he does in his spare time in terms of teamwork and working towards a goal larger than oneself.
Dr. Stevenson is a member of the University Musical Society Choral Union. The Ann Arbor community has given so much to him and his family, and he feels it is important to take part in contributing to what makes Ann Arbor such a great place to live.