How to Clean Your Child's Gums and Baby Teeth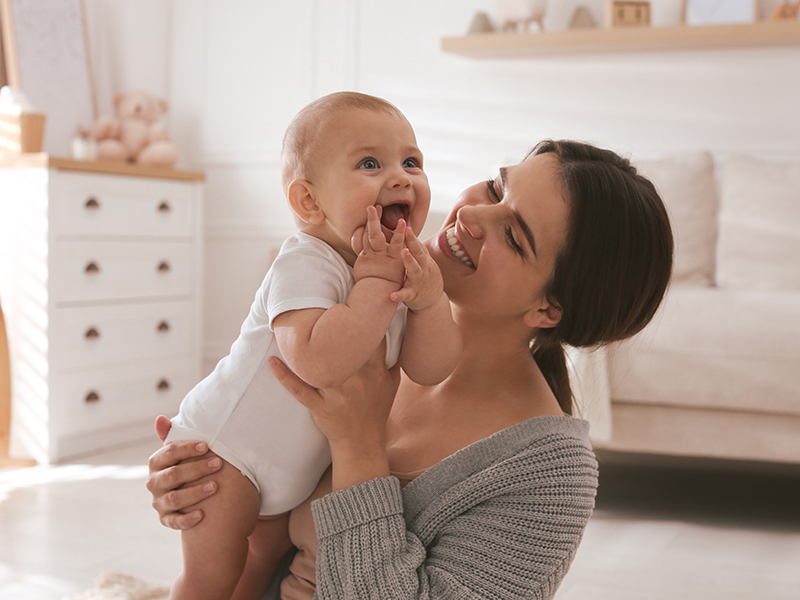 Did you know that the first step in making sure your child develops a healthy smile starts before they even have any baby teeth? Yes, oral hygiene can begin prior to a tooth erupting! Our Ann Arbor, MI, dentists recommend cleaning your baby's gum tissue until you see teeth poking through as plaque still exists and can cause harm if left behind.
Here's what you should know about cleaning a baby's mouth before teeth come in and what to do after they start showing.
When Does Oral Care Begin for Your Child?
Teeth don't typically start to appear in your child's mouth until they are between 6 and 12 months of age, although every child is different. While you're waiting for the joy of seeing a little tooth poke through, there are ways you can still clean your baby's mouth.
Our dentists recommend wiping their gums after each time they are fed or at least twice a day. Even though there are no teeth, bacteria can still grow and cling to gums if ignored. The plaque that's left behind from the bacteria even has the potential to damage primary teeth as they break through. Therefore it's so crucial to not let your child fall asleep with a bottle of milk or juice as the sugars can sit in their mouth all night.
It might not seem like much, but wiping down your baby's gums after meals and before bedtime can positively impact their oral health. These cleaning instances are also great opportunities to bond with your child.
Tools You'll Need In Your Hygiene Arsenal
The oral hygiene essentials in those early months of your child's life will not include two key items: a toothbrush and toothpaste. The bristles of a toothbrush tend to be harsher than what a baby's gums need so our dentists recommend a few options.
One approach is to use a soft, moistened cloth or piece of gauze for gentle cleaning your baby won't get fussy about. You can also use a silicone finger slip toothbrush to move along the gums and fight bacterial growth. Your baby will likely love how the texture of the finger cover feels in their mouth which is a bonus.
As you start to noticesigns of teeth coming in, it's important to keep using these simple materials for regular gum cleanings. Your baby will experience some discomfort before each tooth arrives so the act of massaging their gums will help to soothe them and alleviate any pain.
Tips for Brushing Once Teeth Erupt
When your little one finally has all or at least a few of their primary teeth showing, it's ok to start integrating a small toothbrush and fluoride toothpaste into your routine with them. Generally speaking, this is after they've turned 1 but it can happen right after their first tooth appears.
Brushing should happen at least twice a day, usually in the morning and before bed. If your child is less than thrilled, feel free to have some fun with their oral care. Try playing games while you brush, watching educational videos, or listening to songs about the importance of proper hygiene habits.
Not sure what type of brush is most appropriate for your child?Here is a guide on brush styles and corresponding ages:
0-3: silicone finger slip toothbrush once teeth begin to erupt. After age 1, parents can use a soft-bristled toothbrush with a small head
3-5: kid-sized toothbrush; typically, one with a larger handle
6-9: kid-sized toothbrush: one with a slimmer handle than those for toddlers
10+: adult sized toothbrush
Fluoride is perfectly safe for children but be sure to watch the amount of toothpaste given to your child. For kids under 3, only use a small smear of toothpaste that's equal to a grain of rice. They should not graduate to a pea-sized amount until they are between 3 and 6 years old.
Remember if you're unsure about anything, that we are here to help. Our dentists can help answer any questions you might have about brushing during scheduled dental exams.
Set Up an Appointment For Your Child
Starting oral hygiene early can feel awkward at first, especially when there are no teeth to clean. However, our dentists in Ann Arbor, MI, encourage parents to do so as it can set your child on the path towards a healthy smile. To request an appointment for your child or yourself, call Liberty Dental today at (734) 994-0909.